Ahead of his Sunday Edition performance, Black Major caught up with multi-instrumentalist, composer and singer Vukazithathe. Raised by both a mother and father who played guitar, Maskandi music (contemporary Zulu folk) runs in his blood. Vukazithathe has differentiated himself in a highly competitive and populated music scene in that he sings, composes and plays bass guitar, lead guitar, concertina, as well as violin and harmonica. In 2012 he wrote and recorded, Anibakhuzeni, an album where he plays all the instruments and sings, a true testament to his vision and genius.
*The original interview was conducted in Zulu. The translation can be found below*
BM: Sicela usiphe umlando wakho kafushane ngoba sikubonile ucula namaqembu ehlukene.
V: Umlando wami ngingawuqala ngokuthi ngingumuntu odlala isiginci. Ngaqala ukufunda isiginci ngo-1979 ngisemncane ngifunda isikole ngifundiswa ubaba wami ongizalayo. Kwahamba ngacgina ngiwumuntu ohlukanayo nesikole. Angizange ngiqede kahle esikoleni ngoba ngagcina kwibanga lesishiyagalolunye. Ngike ngathi uma sengiwumuntu ozofuna amatoho esilungwini ngase ngixhumana nabantu ezindaweni ezingamahostela abasemkhakheni womculo nabadlala isiginci. Ngase ngiwuthanda lomsebenzi abawenzayo ngoba vele kwakuwumsebenzi ubaba ayengifundisile wona. Ngaleyondlela ngase ngiba umuntu owenza lomculo ngasebenzisana namaqembu amaningi ahlukahlukene. Zikhona nezinye izingoma engaziqopha kodwa engingakwazanga ukuzikhipha. Noma kunjalo ngaqhubeka kulomkhakha ngoba nginothando lomculo.
BM: Kwakunjani ukusebenzisana ne Fantasma? Ngabe kukhona ezinhlelweni zakho ukuphinda usebenze namanye amaqembu ngendlela efanayo?
V: Ngakuthola kumnandi kakhulu ukusebenzisana namanye amaqembu ngoba lokho kunginikeza ugqozi olukhulu kakhulu nokuzimisela. Ngikujabulelile ukusebenzisana neFantasma njengoba kuyilona qembu engicgine ukusebenzisana nalo. Njengoba ngizimele nginguVukazithathe angikuyekile ukusebenza namanye amaqembu ngoba akhona namanye engiwatotobisayo. Nabakangayiboni indlela esengiyibonile ngiyakwazi ukuthi ngibabonise futhi.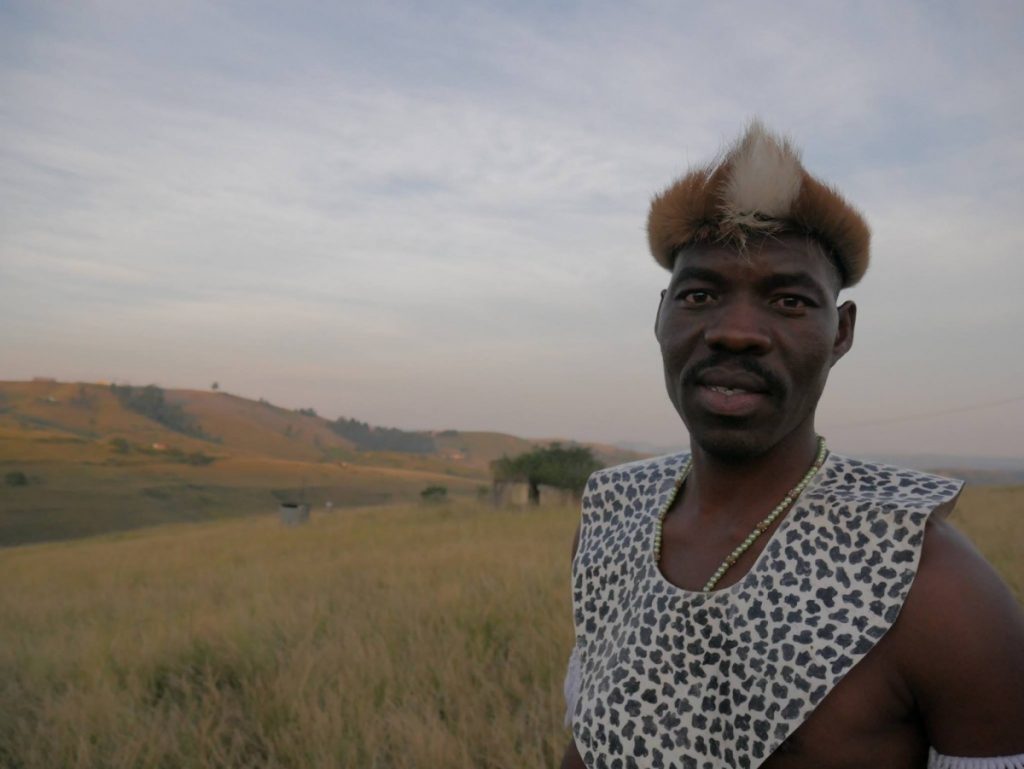 BM: Ngabe ukulomkhakha kaMaskandi selokhu waqala ukucula nokudlala isiginci? Ulibona linjani ikusasa likaMakandi?
V: Ikusasa likamaskandi ngomthetho ukube iqiniso liyinto esebenzayo eSouth Africa belizoba lihle kakhulu. Kepha ngoba iqiniso liyinto enyatheleka ngezinyawo eSouth Africa kungahamba kungabi ngalendlela engicabanga ngayo nengiyifisayo. Imiculo yabanye abaculi uyithola idayiseka ngendlela engahloniphekile.
BM: Abalandeli bakho bayibheke ngamehlo abovu iAlbum yakho ephelele. Ubathembisa ukuyikhipha nini? 
V: I-Album yami ephelele ngizoyikhipha kungekudala. Ngicabanga ukuthi ngeke ziphele izinyanga ezintathu ingaphumanga. Kumanje isebhodweni impela iyaphekwa.
BM: Kwi Sunday Edition uzobe ucula no Spoek Mathombo obuvele ubambisene naye kwiFantasma. Yini esingayilindela kinina?
V: Into eningayilindela kuthina ngalelilanga enizobe nisibona ngalo sicula noSpoek Mathambo into emnandi kakhulu ezobe ijabulisa abantu bonke abazobe bekhona bekwazile ukufika emcimbini.
Special thanks to Giyani Shangase for the translation.
BM: You've been performing and playing in bands for quite some time. Can you give us a brief recap of your history?
V: I started playing guitar in 1979. I was taught by my father, who was also a musician, during my early years at school. Eventually I left school without completing my matric, dropping out in grade 11 and deciding to put my energy into music. After moving closer to the city to try find work, I met fellow musicians at the hostels where we lived. These guitarists that I met had a similar style to the music that my father had taught me and I found it easy to work with them. Since then I've worked with many bands and also as the solo act Vukazithathe. I have made several recordings which have not been released yet, but I continue to record and perform because of the love I have for the music.
BM: How would you describe your time with Fantasma? Are you looking to do any type of collaboration like that in the future?
V: I have found working with bands to be very satisfying. Working with fellow musicians motivates me and I have relished the opportunity to work with bands like Fantasma. I have been a part of many projects while also maintaining Vukazithathe as a solo act. It's always exciting to work with younger bands. The knowledge that I am able to pass on from years of experience is beneficial to the younger musicians who are learning their craft.
BM: Have you always been making Maskandi? Where do you think the future of Maskandi is going?
V: I have always played maskandi, since I first learnt how to play the guitar. If our industry was a fair and true reflection of our scene, maskandi would have a bright future in SA. Unfortunately, this truth is not always reflected in what we see and hear. In SA, things do not always work in favor of the artists as some musicians' music is sold illegally or without their knowledge. This damages our industry, but I am hopeful that the future of maskandi will be bright.
BM: You're overdue a full length release. Can we be expecting one from you?
V: Yes, I'm currently working on my full length release in studio. It will be released soon, hopefully within the next 3 months.
BM: You're performing with Spoek Mathambo, whom you've performed in Fantasma with in the past. What can we expect from your set with him at Sunday Edition?
V: You can expect a beautiful performance that will be enjoyed by people of all ages who will be attending Sunday Edition. We hope that both new fans and those that have seen us perform before will enjoy what we have prepared.
The live collaboration between Spoek Mathambo and Vukazithathe taking place at Sunday Edition #5, is a result of 5 years of live and studio collaborations. Spoek Mathambo, is a Johannesburg producer/artist who coined the terms Township Tech and Guzu to describe his unique homegrown take on electronic music. Vukazithathe is poised to release his album, Anibakhuzeni, as well as a biographical documentary film in 2018 as well as his collaborative album with Spoek Mathambo.