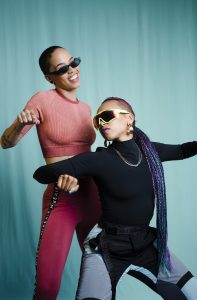 Doowap and TNT are taking their artistic collaboration to irresistible new heights with the release of their first single, "Thunda Thighs".
Destined to hit the sweet spot in clubs, on radio and anywhere there's a party, "Thunda Thighs" is a collaboration with DJ Nel, a Polokwane producer (and former member of Mexican Boys) who delivers an epic Amapiano beat to match the duo's fierce energy.
The single emerged out of an intensive period of live performances by Doowap and Tarryn "TNT" Alberts in December last year. Built around Doowap on the decks, and TNT dancing with Doowap, the performances quickly grew to include live freestyling on top of Amapiano tracks – sowing the seeds for an artistic collaboration.
"Amapiano is a genre that has really captured my heart and fills me and the crowd with so much energy whenever I play it," says Doowap. "Tarryn and I started creating awesome choreographies to different Amapiano hits and got an amazing reception from the crowd. So when we started freestyling our own verses on existing songs we realised it was time to create our own original track."
In a stroke of synchronicity, Doowap and TNT connected with DJ Nel at a gig in Polokwane after he jumped on stage with a friend while Doowap was playing and showcased some seriously great choreographed moves. "We started chatting to DJ Nel after the show and he said he had some Amapiano beats for us," says Doowap of the collaboration with the beat maker. "Later he sent them through and we picked the one we resonated most with."
TNT already had the hook – MMMHHHH AAAHHH MMMMHHH AAHHH THUNDA THUNDA THUNDA THUNDA" – stuck in her head, and, by early January, the two were in Blueprint Studios in Braamfontein laying down the track. With DJ Nel's sensuous, soulful Amapiano leading the way, it took just four hours for TNT's distinctly Eldo's vibe ("die hele nag/die hele fokken nag") and Doowap's Zulu verse and hook to bring the track home.
For Doowap, taking her performing collaboration with TNT into the studio was a natural evolution of their relationship. "Tarryn always tells the most animated stories that have you laughing but also deeply self-reflecting at the end. I kept saying to her that I wanted to bring her in studio so we could put those stories on music."
Over the past few years, Doowap and TNT have emerged as flagbearers of Africa's new wave of creative energy – and both have strong messages to share. "First you need to get people's attention and we both know how to do that best through music, whether it be dance, DJing or vocals," says Doowap.
"By pushing self-love, the positive message will always come through with whatever art or craft I embark on. My main focus at the moment is to make positive, light-filled original music, as well as throwing more inclusive parties that shift the standards of how music should be consumed and welcome diversity within music genres and the people attending."
"Thunda Thighs" is the sound of artists with more to share and Doowap x TNT promise more music in the future – riding the Amapiano wave as well as experimenting with different Sounds.
"TNT and I want to perform 'Thunda Thighs' at shows and festivals across the world," concludes Doowap. "The incredible reception to the song at Cotton Fest is the reason we have so much belief in it and are ready to put our all into it. It's a certified banger amongst the youth and we have a really solid dance routine to back it, which really elevates the performance."
Stream Thunda Thigh here.