South African spiritual songstress Gugu Duma, aka Dumama, joined Dwson in studio last week for an upcoming collaboration. While the details are still hush-hush, we decided to find out more about this centred songwriter on her creative process.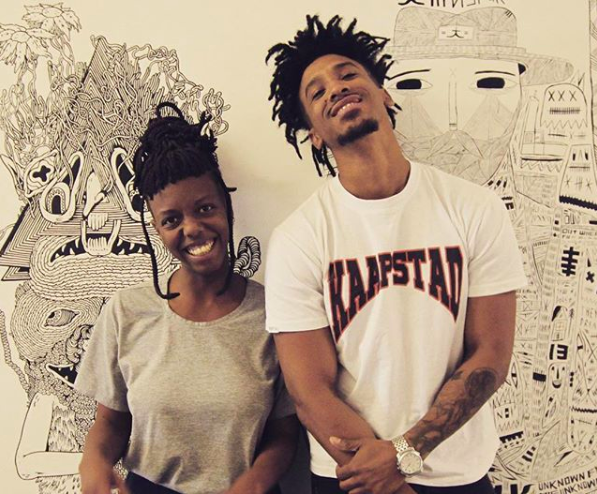 "We did a 5 minute eye-gazing meditation where no one speaks, and we looked into each other's eyes and figured out what our intentions were without words. Synchronizing our energy… because I feel like we don't do that enough. And also 5 minutes feels so long when it's just silence, but it goes by so quickly when you have something to do. We did it, and it was long, yes, and emotional, and I saw him move from being a young person (or a little boy) to an old man, and I saw all of those versions of him, which was great considering we've never met before. He says he felt my intention and he was grateful that we found each other – the energy exchange was so smooth after that! After that we did a word association game, tapping into what's at the top of the subconscious right now… which we did for 3 minutes, and we just took the words that we remembered and jotted them down, and that became the theme for our collaboration. In the 15 minutes after, our song was born."
Dumama has been hard at work off the back of a huge international project with OneBeat, with performances alongside Kechou and Madala Kunene at KONJO, Red Bull Studios Cape Town and Endless Daze Festival, playing the uhadi and channelling what she feels are ancestral energies greater than herself. She's now connecting with house music, bringing a powerful fresh flavour to entrancing house jams.
"It opens up the portals, I think, to a feeling of liberation and trust in the process, which is also very much about creativity… we can't function without creativity. It's not just useful in the arts where we physically tap into our creativity – every industry and space where we require our own essence is a creative one. After all, creativity is just our essence, right?"
That's right! Look out for Dwson and Dumama's collaboration coming soon, and catch up with more collaborators on our @blackmajorsa InstaTV channel for more #blackmajormeets, every week.
Cover Image by Jonothan Ferreira*